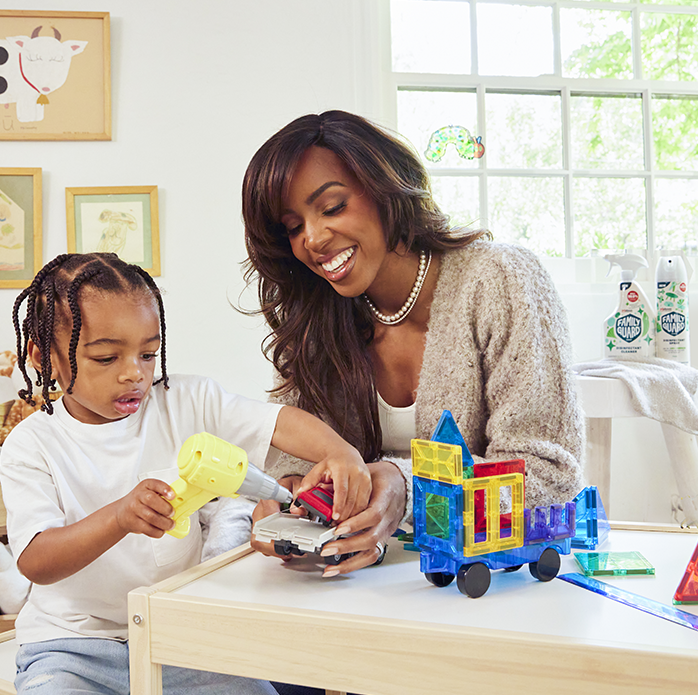 National YES, PLAY! Day and The Play Zone Contest
In April, the FamilyGuard™ Brand launched YES, PLAY!: an initiative that highlights the importance of having a dedicated, clean play space in the home, while giving parents the tools they need to be successful in today's state of family play.
To shine a spotlight on the YES, PLAY! program, the FamilyGuard™ Brand has teamed up with Kelly Rowland, mother, singer, actress, author and television personality who rose to fame as a member of Destiny's Child. The partnership with Rowland continues a series of programming from the FamilyGuard™ Brand that is giving resources and inspiring new activities from coast-to-coast so families can say YES to play and the moments that matter.
One part of the program included the FamilyGuard™ Brand Play Zone contest that ran from May 25 to June 30, with a goal to give away $50,000 divided among 100 families to create or update an existing dedicated play space in their home to ensure their kids have a space to call their own.
To enter, parents shared details about their families, how they plan to create or update existing dedicated play spaces, what winning the prize would mean to them and upload photos of the spaces they plan to update or create. The FamilyGuard™ Brand Play Zone contest is now closed, with winners to be announced in August1.
As part of the YES, PLAY! initiative, the FamilyGuard™ Brand declared May 26 the first-ever National YES, PLAY! Day – a day dedicated to celebrating and encouraging play, and families engaging in play time together. Whether it's playing ball, completing a puzzle or building a fort, no activity is too small for family playtime this summer season.
"Being a mom is truly the most important thing to me. Playing with my boys makes me so happy. Whether it's coloring or building with blocks, when I'm with them, I'm just me. I know the impact that play has on their development and how important it is to have a dedicated and clean play area to explore," said Kelly Rowland. "People may not know that I love to clean! After I put my kids down for the night, I do my cleaning routine and feel confident knowing that I've disinfected their play space, so it is ready for what the next day brings. I'm proud to team up with the FamilyGuard™ Brand to help families provide their kids with a space where they can thrive."
More About the YES, PLAY! Initiative + Resources for Families:
According to a recent study, due to COVID, kids are redefining the way they want to play, including seeking a safe space to play and the permission to say YES to play more. Yet where kids see fun, and an opportunity to explore, parents can look at the same thing and see dirty surfaces, which may lead to limiting kids' freedom to play. This gap between the way kids want to play and how parents are helping to facilitate it, is what inspired the FamilyGuard™ Brand YES, PLAY! initiative, knowing that play is central to children's physical and social development.
Ahead of the first National YES, PLAY! Day on May 26, the FamilyGuard™ Brand has partnered with Dr. Tanya Altmann, FAAP, a UCLA-trained pediatrician and working mom of three children, to provide families with tips about how they can encourage play and maximize the benefits of a dedicated play zone:
Offer choices. Sometimes kids need choices to encourage them to begin playing, or to discourage non-play activities such as screen time. Offering two choices also means you will hear fewer "Nos" because they will have to choose one option. "Would you like to play catch or do a puzzle with Daddy?"
Ask your child and listen. "What do you want to do today?" Based on how they respond, help create an environment where they can explore their interest. For example, if they want to build a fort, you can give support by providing blankets and pillows. Don't be afraid to get creative!
Invite friends. Encourage your kids to play with others. Whether siblings, friends, relatives, or neighbors, they will learn how to communicate, share, trust and problem-solve when other children are around.
"Experts agree that play is an integral component to a child's development, as it builds important social and emotional skills. Try to set aside time every day to engage and play with your child. A child's development is affected positively by consistent and loving relationships with parents as they interact through play." said Dr. Altmann, FAAP. "The bonds between parent and child are built and made stronger when playing together."
More About the FamilyGuard™ Brand Products
The FamilyGuard™ Brand Disinfectant Spray (EPA Registration # 4822-548) is designed for use on 100+ surfaces₺, including where kids and pets play, and the FamilyGuard™ Brand Disinfectant Cleaner (EPA Registration # 4822-613) is expertly formulated for use in homes with children and pets. These new FamilyGuard™ Brand products kill 99.9% of germs, including the virus that may cause COVID-19 and the H1N1 virus.* The FamilyGuard™ Brand Disinfectant Cleaner cuts through dirt, dust, grease and grime while the Disinfectant Spray fights tough odors and disinfects with a pleasant scent. FamilyGuard™ Brand products are available to purchase in-store and online at major retailers, including Amazon, Target and select Walmart locations
₺ See FamilyGuardUSA.com for full list of approved and prohibited surfaces.
* Use as directed on hard, non-porous surfaces. See label for details.
1All eligible entries received during the FamilyGuard™ Brand Play Zone contest period are being judged by the FamilyGuard™ Brand, which will select winners based on expression of importance of having a dedicated play space, appropriateness of response related to the Play Zone contest, creativity/originality and overall quality of entry. Winners will be notified via email.